Dundee to get nine new hybrid-electric buses to cut CO2 emissions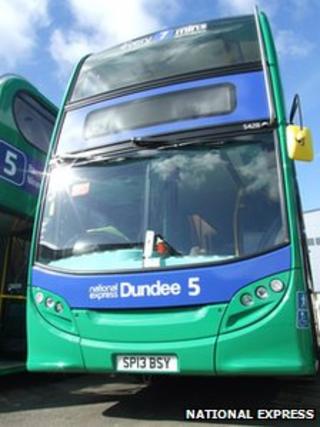 A fleet of "cleaner, greener" buses are being introduced in Dundee as part of efforts to cut fuel consumption and CO2 emissions.
National Express Dundee has bought nine hybrid-electric double-decker buses.
The first three go into service on Monday with the rest being phased in over the coming weeks.
They will operate mainly on Service 5, which covers Broughty Ferry, Ninewells Hospital and the Technology Park.
The vehicles are part of £2.8m investment by National Express, the Scottish government and Dundee City Council in the city's transport infrastructure.
Built in Falkirk by Alexander Dennis Ltd, the environmentally-friendly buses reduce fuel consumption and CO2 emissions by more than 30%, as well as offering reduced noise and maintenance costs.
City benefits
Councillor Will Dawson convener from the council's city development committee said: "The council has been a major supporter of bringing this type of vehicle to the city because of the benefits it will bring in reduced emissions.
"As well as the investment that National Express Dundee and the Green Bus Fund have made, the council has backed this project to the tune of £45,000."
Managing director of National Express Dundee, Phil Smith, said: "I'm delighted to say we're ready to launch our new hybrid double-decker buses onto the city streets.
"I'm confident our customers will enjoy travelling in them, and I know we'll all benefit from an improvement in air quality, thanks to their low emissions.
"This is the future of public transport, and we're proud to be at the forefront of that here in Dundee."