Thousands race in Glasgow and Pitlochry sporting events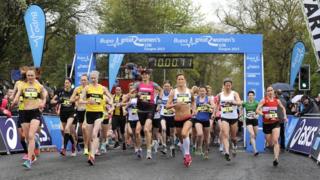 Thousands of people have taken part in two big sporting events in Scotland on the same day.
More than 7,000 women ran in the Bupa Great Women's 10k race in Glasgow - one of the largest female running events in the UK.
Meanwhile, about 5,000 cyclists took part in an 81-mile cycle race in Perthshire.
The Etape Caledonia, which started and finished in Pitlochry, drew participants from all over Scotland.
Organisers said more than 1,100 cyclists raised funds for the event's official charity partner, Marie Curie Cancer Care.
The fastest time around the Perthshire course was claimed by 18-year-old Strathclyde University student Tom Arnstein from Burntisland, Fife.
Organisers have already opened up pre-registration for the 2014 event, which will take place on 11 May.
In Glasgow, Olympian Jo Pavey was among thousands of runners who took to the streets for the Bupa Great Women's 10k race.
After the race, she said: "Being five months pregnant, today for me was about fun, not speed.
"I'm hoping to compete in Glasgow 2014 and then I will go for it."
Elspeth Curran from Kilbarchan Amateur Athletic Club was first over the finish line, completing the route from Nithsdale Road in Pollokshields to Mosspark Boulevard in 34 mins 59 secs.
The official starter for the event was Olympic judo silver medallist Gemma Gibbons.
Commenting on the event, she said: "I'd heard the atmosphere in Glasgow was fantastic and I wasn't disappointed.
"It was great to see so many women take part on the day, supporting each other for so many different causes."