David O'Halloran: Police confirm Bridge of Allan body was missing student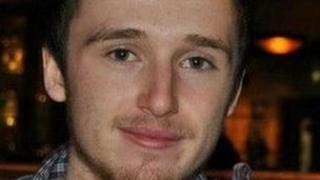 A body found in woodland near Bridge of Allan is that of missing Stirling University student David O'Halloran, police have confirmed.
The 18-year-old mathematics student disappeared after a night out with friends in Stirling city centre in January.
His body was discovered in a wooded area above Bridge of Allan on 18 April.
In a statement on its website, the university said it was "deeply saddened" at the news.
"David was a popular and promising student who will be missed across the university community," it said.
"Our thoughts are with his family and everyone affected at this time."
Police said there were no suspicious circumstances surrounding Mr O'Halloran's death.
Taxi scheme
The student had last been seen crossing Henderson Street in Bridge of Allan in the early hours of 18 January.
He is understood to have got into a taxi after the night out in Stirling, but got out before he reached the student halls.
The university this week launched a new safe taxi scheme, which allows students who do not have enough money to get home from nights out during term time to use their matriculation card and signature as a deposit for the fare.
The initiative has been developed by Stirling's Students' Union, 12 local taxi companies, police and Stirling Council.
Sam Gibbs, president of the Students' Union, said: "It is important that, if students do find themselves in a difficult or exceptional situation, there are mechanisms in place to help them get home safely."
Robert Fowler, chairman of the Stirling Taxi Association, said: "We are pleased to be working with the university to deliver this service which provides a safety net for students in emergency circumstances."