Stirling insulation firm Superglass announces £12.2m refinancing plan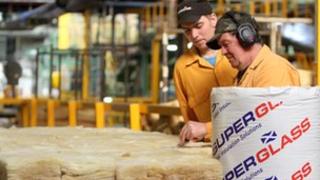 Stirling insulation firm Superglass has announced plans for a £12.2m share placing as it attempts to restructure its debts.
The deal would see the company use the funding to repay £3m owed to Clydesdale Bank, which has also agreed to exchange £6.5m of debt into convertible shares.
The move would also cut the firm's debt from £12m to £2.5m.
The value of Superglass's shares fell 63% after the announcement on Wednesday.
The Stirlingshire firm said the restructuring would provide them with cash of at least £7.6m which would "provide Superglass with the necessary headroom to grow the business".
However, it would also give Clydesdale Bank the right to receive 50% of the firm's profit after tax.
Moving markets
Superglass also warned "if for any reason the refinancing does not proceed, it is likely that existing shareholders' ordinary shares would have no value and that the company would likely enter into administration or some other form of insolvency procedure".
Part of the deal would also see Superglass cancel its shares on the London Stock Exchange main market and transfer to the AIM.
John Colley, non-executive chairman, said: "With the strong support of the Clydesdale Bank and investors we remain confident of completing this transformational refinancing which will provide Superglass with a considerably strengthened and sustainable long-term capital structure.
"The proposed refinancing will leave the company very well placed to benefit from any resurgence in market volumes and the efficiencies from its recent capital investment programme."
Falling revenue
The company said it was still experiencing "extremely challenging" trading conditions.
Revenue for the first six months of the year up to February 2013 down 20% at £13.7m, compared with the same period last year.
Losses before taxation, exceptional items and amortisation of intangible assets stood at £1.6m, double the figure from 2012.
However, Superglass said there were grounds for optimism. It expects a gradual increase in UK housebuilding activity from 2014 onwards as government schemes come online, and that demand will pick up when the Green Deal initiative became fully operational.