M9 death boy Michael Easton 'crossed carriageway'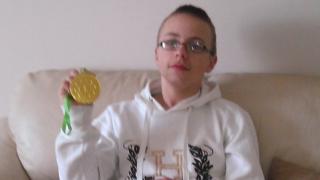 Police think a 13-year-old boy who was found dead on the M9 near Grangemouth crossed the eastbound carriageway before he was hit by a vehicle.
Michael Easton was found dead on Saturday morning near the motorway's Cadgers Brae interchange.
Detectives said they had now traced a driver and a vehicle suspected of being involved in a crash.
Officers are appealing for drivers who were on the motorway between 21:50 and 22:15 on Friday.
They want to speak in particular to the driver of a silver Audi car which was travelling west, who they believe could be a witness.
Det Insp Graeme Hendry said: "We have had a good response from the public and as a result we were able to narrow down the timeframe.
"I am appealing to all drivers who were on the motorway between these times to contact the police service on 101.
"Investigations are continuing into the cause of the collision and Michael's family have requested privacy during this time."
Michael's body was discovered between Junction 5 and Junction 6 of the M9 at about 05:40 on Saturday.
In a statement released through the police, his family said they had been left "utterly devastated".
It said: "Michael was a quiet and well-behaved boy, who never caused any trouble and who would have helped anybody. He loved his family deeply."
Michael, who was from Polmont, was last seen in Grangemouth town centre at about 21:50 on Friday night.