Design contracts offered for Inverness-Perth A9 upgrade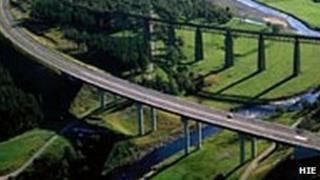 Three contracts worth up to £60m each have been offered for the design of new dual carriageway on the A9 between Perth and Inverness.
The work forms part of a £3bn Scottish government project to dual the road completely between the two cities.
The scheme involves upgrading 80 miles (128.7km) of road not already dual carriageway. The construction work is scheduled to be completed in 2025.
Transport Minister Keith Brown said the project would be good for business.
Scottish government agency Transport Scotland has published prior information notice for the design work. The areas to be covered by the three separate design contracts will be determined during the procurement process.
Mr Brown said the notice was a "clear indication" of the government's commitment to improving the A9.
He said: "This £3bn complex and challenging programme will be one of the biggest infrastructure projects in Scotland's history.
"The sheer scale, 80 miles of dual carriageway, makes it good business and value for money to split this design work into three large sections."
The minister added: "These contracts will provide steady work for the next 12 years for the three successful bidders - providing much needed certainty and helping to secure jobs."
Last month, Iain McMillan, director of business body CBI Scotland, said the A9 dual carriageway all the way from Perth to Inverness should be accelerated.
The government said it was taking taking "every possible step" to dual the road as quickly as possible.