Dundee, Stirling and Edinburgh on shortlist for national sport centre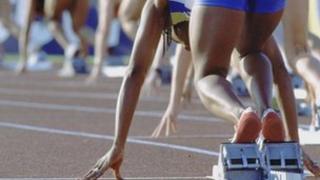 Scotland's National Performance Centre for Sport will be built in Dundee, Stirling or Edinburgh.
Bids by Dundee City Council, Stirling University and Stirling Council and one from Heriott-Watt in Edinburgh have all made the shortlist.
The Scottish government has committed up to £25m towards the cost of creating the NPCS, and has set a timescale of early 2016 for its completion.
An announcement on the preferred bidder will be made in be summer.
The shortlist announcement means that Perth and Kinross Council, St Andrews University and Midlothian Council were unsuccessful with their bids to host the centre.
Dundee's progression has been welcomed by council leader councillor Ken Guild.
He said the city council would now work with other organisations in the city, including both of Dundee's universities and football clubs, to take their case forward, highlighting the benefits of situating the centre in Dundee.
Impressive venue
Councillor Guild said: "This is confirmation that the city's bid is a strong one, based on our longstanding partnerships and our shared ambitions and aspirations to bring this centre to Dundee.
"The council's recent decision to allow use of a currently underused section of Camperdown Country Park has given our bid an impressive location that has the ability to expand and is close to a major transport link.
"We have also ensured that local community access has been built in to our proposals to complement use by the national football team and other elite athletes."
Prof Steve Chapman, principal of Heriot-Watt University, said they had put forward a strong bid to have the centre based in Scotland's capital.
He said: "We are delighted that Heriot-Watt's proposal is one of those shortlisted, and we are looking forward to developing stage two of our bid, with the support of our partner, the City of Edinburgh Council.
"Our desire is to create a world class sporting facility that will have a positive impact on the preparation of our athletes, readying them to compete successfully on the world stage.
"The location and accessibility of the proposed site, coupled with innovative design, will create a National Performance Centre for Sport that will impact on the development of sport nationally, regionally and locally and will greatly enhancement the sporting infrastructure of the capital."
Stirling Council leader, councillor Johanna Boyd, said the area already had a good record for sport.
Strong claim
She said: "We are keen to build on Stirling's natural assets and its unrivalled central location at the very heart of Scotland.
"Our joint bid with the university to be the home of Scotland's first National Performance Centre for Sport strengthens our claim to be Scotland's City of Sport."
Stirling is already home to four national training centres for swimming, triathlon, tennis and women's football.
The Scottish government said the new facility will feature a multi-sports performance centre including a National Football Academy and will support Scotland's sportsmen and women in reaching their full potential.
Sport Minister Shona Robison said: "This is an important milestone for the delivery of the new National Performance Centre.
"It is clear that a lot of hard work has been carried out by all the bidders to get to this stage.
"This project remains on track to be delivered by 2016 and I look forward to seeing the National Performance Centre up and running, supporting our elite athletes to develop and deliver on the international stage."