Firefighters tackle blaze at Stirling Superglass factory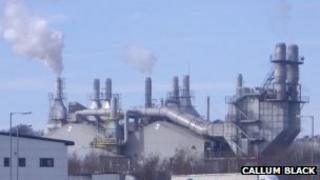 Emergency crews have tackled a fire which started near an insulation factory in Stirling in the early hours.
Firefighters were called to the Superglass plant on Kerse Road in the Thistle Industrial Estate just after 01:30.
A fire service spokesman said six lorry trailers full of glass wool were well alight. He added the fire was brought under control at 05:00.
There were reports of people hearing an explosion near the plant.
The Scottish Fire and rescue Service said the cause of fire was not yet known.
Superglass chief operations officer John Ivinson said there was no cause for concern and that business continued as usual at the manufacturing facility.
He said: "We can confirm that in the early hours of this morning a small fire broke out within a loaded transport trailer on a remote area of site some distance from the factory.
"The trailer fire damaged five other trailers within the trailer park. The fire was contained and extinguished. There were no injuries, or damage other than trailers."
He added that a full investigation was under way to establish the cause of the fire.