Pair arrested after raids in Clackmannanshire and Fife areas.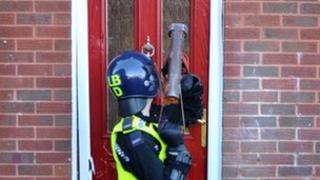 Police have arrested two men following an investigation into serious organised crime in the Forth Valley and Fife areas.
Officers raided five properties in Clackmannanshire and Fife and found drugs with a street value of £150,000.
The men, aged 32 and 29, were taken into custody, accused of working with a serious organised crime group.
They are expected to appear at Alloa Sheriff Court on Monday.
Officers have already arrested a further three people in connection with the investigation.
A 27-year-old man from Lochgelly in Fife, and a 33-year-old woman and a 26-year-old man, both from Clydebank, have already appeared at Edinburgh and Dumbarton Sheriff Court's respectively.
Key criminals
Det Insp Douglas Telfer, of the Specialist Crime Division, Organised Crime and Counter Terrorism Team, said: "This is part of an ongoing operation during which £150,000 worth of drugs, including cannabis resin and amphetamine, have been seized.
"Three people were previously arrested in January and today has seen another two people, who are key individuals in this serious organised crime group, arrested."
"This operation has spanned the central belt of Scotland from Fife and Lothians, through the Forth Valley and into the Clydebank area".
He added: "Today marks a new dawn in policing where a number of police officers have come together from different areas to tackle those who cause the greatest harm to our communities.
"This also shows that we do act on information received. We will continue this type of activity and urge the public to keep working with us to provide information."