Man sentenced to life for murder outside Dundee pub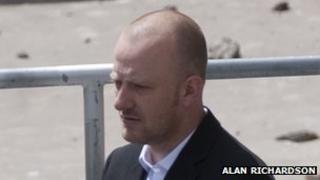 A man has been given a life sentence for stabbing a father-of-four to death outside a Dundee pub.
Jamie Cumming murdered 29-year-old James Getty outside the Maltman pub in the city's Mains Road on 1 June last year.
At the High Court in Edinburgh, Judge Lady Clark of Calton told Cumming, 36, that he must serve at least 17 years before he can ask for parole.
Cumming had denied the attack blaming another man for the death.
During his trial, the court heard Mr Getty died after being stabbed in the heart, lungs and liver after a row at a birthday party.
He clashed with Cumming in the pub toilet and came out bleeding from a gash above his eye, telling other party guests that Cumming had punched him.
Mr Getty then left the pub, followed by Cumming.
James Kelbie, the man Cumming tried to blame for the stabbing, attempted to separate the struggling pair.
The trial heard moments later Mr Getty collapsed with blood pouring from his chest. He died before he could reach Dundee's Ninewells Hospital.
Medics had said they would have been unable to save him, even if the stabbing had been in a hospital car park.
Meanwhile Cumming sent a number of text messages to say "goodbye" to former girlfriends. Blood on his clothes and shoes also linked him to the stabbing.
When arrested two days after the incident, carrying a bag of blood-stained clothes, Cumming told police: "I have thrown my life away."
Defence advocate Jonathan Crowe said Cumming was sticking to his story that he had not stabbed Mr Getty.
Lady Clark asked if Cumming had shown any remorse and the lawyer replied: "He has shown no remorse other than a general empathy for the victim and the victim's family."
She told Cumming: "A man has died, as the jury found, as a result of your actions."
She added that the use of a knife in a public place would always be treated seriously.