Brechin woman becomes first in Scotland to use new hearing technology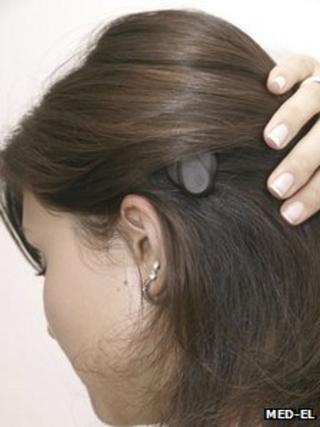 A healthcare assistant from Brechin has become the first patient in Scotland to be fitted with a specialist hearing aid.
Karen Thomson, 42, has been fitted with the Bonebridge device after her hearing started to fail.
The special device, which passes sound to the cochlea sound through the skull, was fitted at Kings Cross in Dundee.
Dundee is one of the few UK centres to be offering the new technology to patients.
The Bonebridge is surgically fitted under the skin to the bone structure behind the ear.
It vibrates the skull sending sound to both cochleas.
An audio processor is then attached, switched on and tuned in, usually after a month or so.
Ms Thomson, who works at Stracathro Hospital, had attended numerous clinics and appointments over the years for recurrent ear infections, which resulted in a conductive hearing loss in both her ears where sounds are heard at a much quieter level.
Hearing struggle
Conductive hearing loss can often be caused by malformations of the external or middle ear or by severe middle ear infections.
It results in sounds being heard at a much quieter level.
This meant Ms Thomson was struggling to hear conversations at both work and at home.
She said: "I have suffered so many ear problems over the years and was unable to tolerate hearing aids owing to recurrent infection.
"Other treatments included antibiotics, steroids, ear drops and grommets that help to equalise the pressure in the middle ear, but these were only ever treating my symptoms rather than finding a more permanent solution.
"I was delighted when it was suggested to me that I might be a candidate for this new technology and even more so to be the first person in Scotland to be switched on, I feel quite privileged."
She added: "I can now lead a normal life and be part of the conversation instead of having to ask people to repeat themselves all the time.
"It is such an uncomfortable thing to have to live with and can be socially isolating, which many people don't realise.
"I am so grateful to the surgical team at Ninewells and the Audiology team at Kings Cross."
Head of Service for Audiology Samantha Batty said: "NHS Tayside is at the forefront of embracing new technology in the field of audiology and this is yet another example of this."