Footballer suspended over Ibrox Disaster remarks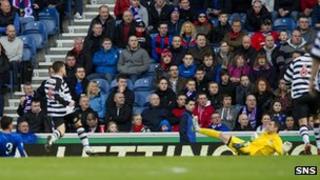 A footballer has been suspended while allegations that he made offensive remarks about the Ibrox Disaster are investigated.
East Stirlingshire Under-19 player Brett Molloy has claimed he was the victim of a hacker on his account on the Facebook social media site.
But Strathclyde Police have launched an investigation into the remarks about the 1971 loss of Rangers fans' lives.
Shire said Mr Molloy had now been suspended pending their own probe.
Shire chairman Tony Ford, who had already issued an apology to Scottish Division Three rivals Rangers, told his club website: "The allegations made against the player are now the subject of a police investigation.
"The player has been suspended by the club pending its own internal disciplinary process and there will be no further comment on the matter until these have been completed."
Facebook account
However, Mr Ford stressed that there are only allegations at this stage against the player, who has himself made a complaint to police.
"I have been contacted by a number of people regarding posts made on social networking sites allegedly by one of our under-19 youth team players and I would like to thank those people for bringing this matter to my attention," he said.
Mr Molloy, whose Facebook account appears to have been closed, had already said on social media site Twitter that he knew nothing of the remarks.
In a statement issued through lawyers, the player added: "I have no comment to make at this time whilst club investigations and police investigations into my complaint are ongoing."
The Ibrox Disaster claimed 66 lives on 2 January 1971 after fans were crushed on stairway 13 of the Glasgow stadium at the end of a game against Celtic.