Nicholas Conning cleared of killing Jennifer Findlay in Dundee flat fall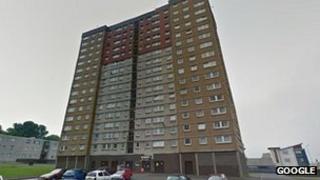 A man has been cleared of killing a Dundee woman who plunged to her death from a fifth floor window.
Nicholas Conning stood trial at the High Court in Edinburgh, where he denied a charge of culpable homicide.
The 45-year-old had been accused of holding Jennifer Findlay prisoner in a Lochee flat, making her fear for her safety and causing her to fall.
However, he was acquitted after judge Lord Burns ruled that there was not enough evidence.
Lord Burns told the jury that he had heard legal arguments from advocate depute Keith Stewart QC and Mr Conning's defence QC, Neil Murray.
He said that having considered the submissions over the weekend, he considered there was no "legal sufficiency" in respect of the culpable homicide charge.
Turbulent relationship
The judge added that some complex issues had been involved.
During a week of evidence, the trial heard of a violent and turbulent relationship between Mr Conning and Ms Findlay, 46, punctuated by drink-fuelled rows.
Witnesses said Ms Findlay claimed the relationship had ended, but Mr Conning would not leave her alone. Mr Conning told police they were still good friends.
He was in her flat in Elders Court, Lochee, on 12 July last year, the night Ms Findlay died.
Broken skull
Children playing in a nearby garden saw her hanging from her bedroom window in the multi-storey block.
Ms Findlay fell and died instantly from a broken skull and multiple internal injuries.
Mr Murray had argued that his client should be cleared because the prosecution had failed to prove that he had committed any illegal act.
Mr Stewart argued that the case should go to the jury because witnesses had heard sounds of an argument in the flat and Ms Findlay pleading to be left alone.
There was also a suggestion that the flat had been locked.