Man faces life sentence for Dundee Maltman pub murder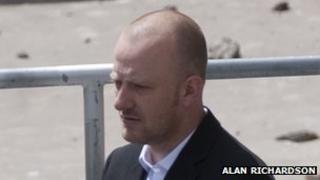 A man dubbed "Britain's most feckless father" after fathering 16 children by 14 different mothers faces life in prison after being convicted of a Dundee murder.
Jamie Cumming stabbed James Getty to death outside the Maltman pub in the city's Mains Road on 1 June.
At the High Court in Dundee, a jury took two hours to convict him of murder.
Cumming will be sentenced at the High Court in Edinburgh on 3 April.
The 36-year-old had denied the attack, which took place in front of a string of witnesses, and tried to shift the blame on to James Kelbie, a mutual friend of Cumming and Mr Getty.
Deadly scuffle
The nine-day trial at the High Court in Dundee heard how Cumming had clashed with Mr Getty in the toilets of the Maltman bar, in Dundee's Mains Road, during Mr Kelbie's 50th birthday party.
Mr Getty was seen with blood coming from a wound above his eye as he left the toilets, before he followed Cumming outside the pub, where a "scuffle" broke out.
The fight moved into neighbouring Mid Road, with Mr Kelbie getting between the pair and trying to "separate" them.
Witnesses told the court that they then saw Cumming repeatedly strike Mr Getty in the chest in a "stabbing motion".
Fatal stabbing
He was then seen to "stagger" backwards with a "stunned" look and blood "gushing" from his chest.
Mr Getty walked back into Mains Road before collapsing, with Mr Kelbie trying to put pressure on his wounds as an ambulance rushed to the scene.
The court heard that Mr Getty suffered "lethal" stab wounds to his heart, lungs and liver and "would have died even if he had been stabbed in the hospital car park", according to a medical examiner.
He died around an hour and a half after the attack at Dundee's Ninewells Hospital.
Meanwhile, Cumming fled, jumping into a taxi. He was arrested the following day, on 2 June, in his grandfather's car, with a bag containing his bloodstained shoes and clothes.
Life sentence
He told officers "I've thrown my life away" as they took him to Tayside Police HQ in Dundee city centre.
Judge Lady Clark of Calton said Cumming faces a life sentence when he appears at the High Court in Edinburgh on 3 April.
"The penalty for murder is, of course, prescribed by law," she said.
After the verdict was delivered, advocate depute Gillian Wade told the court that Cumming had 19 previous convictions, including one for assault to injury.
"The accused is in a relationship and has three children from that union," she added. "But it is believed he has another 13 children from various other relationships."