University of Dundee professor given medical medal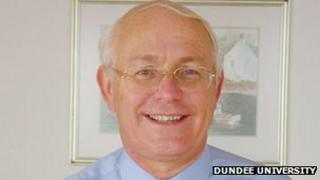 A University of Dundee professor is to be awarded one of the most prestigious awards in medical research.
Sir Philip Cohen is to be given the Medical Research Council's Millennium Medal at a ceremony in the House of Commons on Wednesday.
The medal is presented every two years to an "outstanding scientist" who has made a major contribution towards the MRC's goal of improving human health through medical research.
Sir Philip said he was deeply honoured.
The 67-year-old is deputy director of the division of signal transduction therapy and was director of the MRC protein phosphorylation unit from the time of its inception in 1990 until April 2012.
Important studies
Both research divisions are situated within the College of Life Sciences at the University of Dundee.
Sir Philip has devoted his career to studying a cell regulation process called phosphorylation.
His research has contributed to what has become the largest and fastest growing area of drug discovery over the past decade.
Professor Sir John Savill, chief executive of the Medical Research Council, said: "The MRC is proud to award this year's Millennium Medal to Sir Philip.
"It is with great pleasure that I, along with the MRC's Council, can recognise those that have contributed so significantly to the transformation of healthcare and the advancement of the way the research community collaborates and innovates."
Sir Philip said: "I am deeply honoured to accept this award from the Medical Research Council.
"The MRC has given me tremendous support over the past 35 years for the research that I have carried out in Dundee and I am happy that, with the support of the 45 PhD students and 65 postdoctoral researchers who have worked with me over this period, I have been able to make discoveries that are now having a significant impact on human health and wealth creation."
Crucial process
Sir Philip had been a researcher for 25 years before he first received a phone call from a pharmaceutical company.
He added: "People used to say 'Oh, what you're doing is interesting but it will never be of the slightest of use for improving health or for wealth creation'."
Phosphorylation is a type of cell regulation involving the attachment to, or removal of, phosphate groups from proteins, thereby switching their biological functions on or off, or making them more or less stable.
It was once thought to be a highly specialised process, but Sir Philip's research helped to show that it was, in fact, universal, regulating almost all aspects of cell life.
When phosphorylation goes wrong, it can cause diseases such as cancer, diabetes and arthritis.
Therapies based on the process are one of the largest and fastest growing areas of drug discovery.