BP tanker drivers at Grangemouth begin three-day strike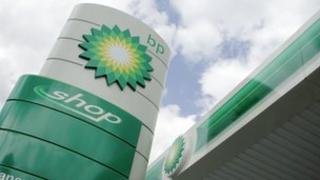 More than 40 BP tankers drivers based at the Grangemouth Oil Refinery have gone on strike in a dispute over pensions and pay.
The walkout began at 04:00 on Friday and will end at 08:00 on Monday.
Unite, which represents the striking workers, said they were protesting over cuts to pensions and pay following the transfer of a key fuel transport contract.
Grangemouth's owner, Ineos, said its operations would continue as normal.
Unite said the industrial action would hit aviation supplies and deliveries to BP forecourts across Scotland and the north east of England.
Lost earnings
The union said 90% of the 42 tanker drivers balloted had voted for strike action following an aviation contract transfer from BP to DHL.
Unite said the drivers were set to lose £1,400 a year in pay and as much as £100,000 from the value of their pensions as a result.
The union's regional industrial officer Tony Trench said: "It's an outrage that BP, a multi-national giant which earns billions every year, is exploiting the UK's weak employment laws to effectively swindle workers out of their retirement savings and future earnings.
"This year, one-third of workers on the aviation contract at Grangemouth could lose up to £13,000 a year from their pension on retirement and two-thirds upwards of £1,400 a year from their basic earnings due to the loss of the BP share-match scheme."
Picketers have said that the walkout had been successful so far and that no tankers had left the refinery this morning.
The Grangemouth drivers also intend to begin a work-to-rule immediately after the first strike ends on Monday morning.
A second four-day strike is due to begin on 28 February if there is no settlement in the dispute.
A BP spokesman said: "Our priority remains the safe delivery of fuel products to all our customers.
"We have been working to, and continue to work to, minimise any potential disruption the industrial action planned for this weekend at Grangemouth could cause."
Resolution needed
Finance Secretary John Swinney said he had tried to help both sides come to some sort of resolution to prevent industrial action.
He said: "I am therefore disappointed a resolution has not been found to date.
"It is now essential that additional efforts are made to resolve the dispute and I have asked both parties to meet with ACAS as a matter of urgency to seek a resolution.
"I am confident that the necessary contingency arrangements are in place to minimise disruption to the public."