Scone Palace announced as Cycletta Scotland starting point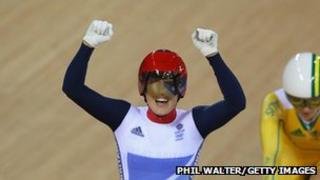 Scone Palace in Perthshire is to become the first Scottish starting line for the UK's only cycling series for women.
It is one of seven new locations added to this year's Cycletta series.
The event will be held on 15 September this year, with competitors choosing to cycle 12 miles (20km) up to 39 (63km).
The new addition was announced by Olympic gold medallist Victoria Pendleton who is encouraging women to get active while raising money for charity.
It is the latest cycling event to be hosted in the region where other fixtures include the UK's biggest closed roads event, Etape Caledonia, and the annual Highland Perthshire Cycling Festival.
Ms Pendleton, who won a gold and silver medal at London 2012, said: "I am so passionate about this series and it is fantastic to see Cycletta continue to grow in popularity, with events now taking place all over the country and launching in Scotland, where the scenery is fantastic and the welcome for cyclists warm and friendly.
"Some cycling events can feel intimidating, particularly if you haven't been on a bike for years, and that's exactly what Cycletta aims to change."