Falkirk goalkeeper Graham Bowman banned from roads for drink driving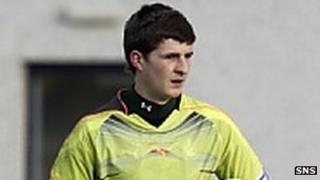 Falkirk Football Club goalkeeper Graham Bowman has been fined and banned from the roads after admitting drink driving.
It emerged that he was given a £400 fine and one-year ban when he was expected to appear at a pretrial hearing at Falkirk Sheriff Court.
His case had been "accelerated" through the court system and he had appeared at the court on 28 January.
The 20-year-old had admitted drink driving at Lochgreen Road on 11 May.
Bowman was found to have had 134mg of alcohol in his blood at the time - the limit is 80mg.
It also emerged that he admitted another, separate, charge of behaving in a threatening or abusive manner.
Other charges
Court papers showed he denied a charge of careless driving at Lochgreen Road that day, losing control of his car, causing it to collide with and damage an electrical box and a fence.
His not guilty plea was accepted by the prosecution.
Bowman, in a separate case, pleaded guilty to behaving in a threatening manner likely to cause a reasonable person to suffer fear and alarm in Manor Street, Falkirk, on 4 August.
The charge said he did "engage in a stand-up fight."
He was admonished and dismissed for that offence.
Bowman made the first of his two first-team appearances for Falkirk in March but has not played for the Scottish First Division side this season.