Broken landfill gas system the cause of Falkirk's bad smells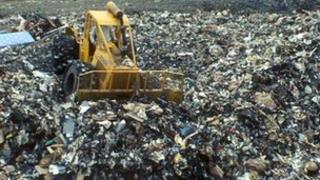 An investigation has been launched following a number of complaints by Falkirk residents of unpleasant smells.
The Scottish Environment Protection Agency (SEPA) said they were looking into the cause of the odours which were reported on Monday night.
Sepa said the source of the smell is believed to be a faulty gas extraction system at the West Carron Landfill.
Engineers are currently attempting to repair the equipment.
A number of residents had contacted the council about the offensive odours, with others posting comments on the social network twitter.
Landfill odours
Kath McDowall, senior environment protection officer at Sepa, said: "Since yesterday evening, we have received a high number of complaints regarding offensive odours in the Falkirk area.
"Following initial investigations, Sepa officers identified a number of odours in the area, primarily a landfill gas odour in the vicinity of West Carron Landfill.
"The operator has advised us that a mechanical failure, in part of the landfill gas extraction and flaring system, is the likely cause of the odour release."
Sepa said they intended to visit the site again and would continue to monitor the situation.