Dundee man jailed after threatening mother with knives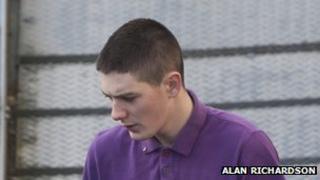 A Dundee man who told his terminally ill mother to "hurry up and die" before threatening her and his 72-year-old grandmother with knives has been jailed.
Dundee Sheriff court heard Darren Airlie had grabbed the knives following an argument on 23 September 2012.
He pleaded guilty to behaving in a threatening and abusive manner.
Jailing Airlie for 30 months, Sheriff Richard Davidson told him he was "not fit for normal society".
The court was told the 24-year-old had become enraged at the home he shared with his mother and grandmother in Dundee's Arklay Street as he tried to "get his own back" after they had failed to tell him that his sister had had a miscarriage.
Music row
Airlie stormed into the living room of the flat and put on loud music.
When his mother Jennifer, 45, and grandmother Kathleen asked him to turn it down he refused, instead "childishly" turning it up.
An argument ensued, with Airlie hurling abuse at his mother, telling her to "hurry up and die", just weeks after she had been diagnosed with throat and lung cancer.
Airlie then went into the kitchen and brought out two knives, one with a 10in-long blade, and told his mother the longest one was "for her".
When his grandmother tried to intervene he swore at her.
Breached bail
Fiscal depute Trina Sinclair told the court: "He was later granted bail on 2 October, on the condition he didn't approach or contact his mother or grandmother or go to their address.
"On that date he went to his grandmother's address, she contacted police and he was again arrested."
Airlie pleaded guilty to behaving in a threatening and abusive manner and breaching his bail on 2 October.
Jim Laverty, defending, said: "He is mortally embarrassed about what he did that particular day and the thought of reliving and recounting it is something he is unable to do."
Wasted life
Sheriff Davidson told Airlie: "It is difficult to find anything positive to say about you. It is quite clear that you terrified your grandmother and mother, who is terminally ill, and told her to hurry up and die.
"You threatened your mother and told her to watch her back. You are wasting your life, this is your 12th conviction for breaching bail conditions and the inference is that if you are freed you will offend again.
"Your actions were quite dehumanising and it suggests to me that you are not fit to be placed in normal society."