Volunteer search begins for 2014 Gleneagles Ryder Cup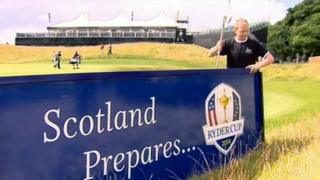 Organisers of the 2014 Ryder Cup have launched a search for 1,800 volunteers to work at the event.
They will be selected for a variety of roles connected with the Gleneagles tournament.
These include scoreboard carriers, buggy shuttle drivers and merchandise pavilion assistants.
Successful candidates will be expected to pay a £75 "registration fee". They will be provided with clothing, food and beverages during the event.
Volunteers have been asked to visit the Ryder Cup website to register their interest.
European captain Paul McGinley said: "We are always appreciative of anyone who gives their time to volunteer and support golf and there are not many countries in the world better than Scotland for producing volunteers and marshals whose golf knowledge is second to none.
"We will be looking for volunteers who have a knowledge of the game but also people who will enjoy the experience and help to make The Ryder Cup an unforgettable event for the fans who will have a vital role to play in trying to help The European Team retain the trophy at Gleneagles."
The Ryder Cup is expected to attract more than 250,000 spectators to Gleneagles.
Edward Kitson, the match director for the 2014 Ryder Cup, said: "The volunteers at The 2014 Ryder Cup will be the public face of the match: they will be the first and last people our spectators see.
"Naturally some of the roles require specialist experience, and while some knowledge of golf would help, in most cases the main criteria is a positive attitude and genuine desire to be involved in one of the world's great sporting events.
"Ideally our volunteers will be friendly, out-going, good-humoured and will enjoy helping others."