Man in court over Stirling war hero John Gillespie's death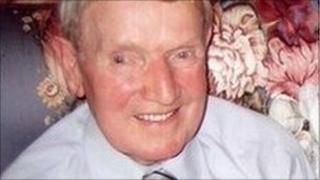 A war hero died on his 64th wedding anniversary after he was injured resisting a thief who was trying to steal his wallet, it has been claimed.
At the High Court in Edinburgh, James Duguid was accused of setting upon 88-year-old John Gillespie, by the river Forth in Stirling on 19 April.
Mr Duguid, 51, denied attempting to rob and murder Mr Gillespie, who died in hospital a week after the incident.
The trial before judge Lady Scott continues.
Mr Gillespie was said to have been taking a stroll along the riverside on a spring afternoon to look at the daffodils when a man stepped in front of him.
'Steady decline'
It was claimed the 88-year-old tried to fend off the man with his walking stick and ended up on the ground.
Mr Gillespie required surgery for a broken hip but he went into a steady decline and died in hospital about a week later.
Mr Duguid is accused of demanding that the pensioner hand over his wallet before pushing and pulling him at the underpass at the junction of Lovers Walk and Riverside in the town.
He was charged with having hit him with the walking stick and dragged him along the ground.
Mr Gillespie's son John, 57, told the court that his father was a former Royal Navy sailor who had been mentioned in despatches for his conduct during the World War II.
John Gillespie told the court: "He was elderly but very energetic. He was always on a mission. He loved his daily walk."
Mr Gillespie's son said he received a phone call telling him that this father had been taken to hospital in the town following an attack in an underpass.
The court heard that Mr Gillespie went to Stirling Royal Infirmary and that his father was being treated in a room in the Accident and Emergency Department.
He told the court: "He passed away on the 25th of April - on the day of his 64th wedding anniversary."
Mr Duguid, from Raploch, Stirling, pleaded not guilty to a charge of murder and not guilty to another charge of attempting to defeat the ends of justice, by putting the walking stick in undergrowth after the attack.