Parking permits considered for Dundee's west end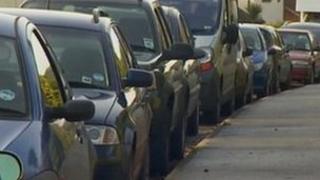 Residents in Dundee's west end could face paying £80 to park outside their home under new plans being considered by the city council.
The authority is launching a consultation on the introduction of a parking scheme.
About 7,000 households and businesses are being contacted to give their opinions on the plans.
Dundee City Council said an £80 annual resident's permit would help address parking problems and pay for itself.
Will Dawson, convener of city development, said: "It has become clear over a number of years that residents of the west end are unhappy with the impact that selfish parking has on their streets.
"The council currently takes action on this problem through enforcement and we have also invested money in parking facilities to try and help with the situation.
"Other solutions are possible, but before we introduce anything we need to ensure that it is what people feel they want and need."
Maximum engagement
Bill Campbell, depute convener of the city development committee, said they were keen to get a wide range of views on the issue.
He added: "We are making it as easy as we can for as many people as possible to give us their views, so as well as the written questionnaire we will use the internet and public meetings to gauge opinion on the scheme and engage with residents.
"People are looking for solutions to the problems caused by inconsiderate parking on some residential streets in the west end and I hope they will respond in numbers to this consultation."
The authority has organised an event at Blackness Library on 19 November where council staff will be available to answer the public's questions on the proposals.