Dundee man jailed over CS pistol found in his house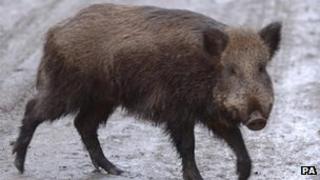 A Dundee man has been jailed for five years at the High Court in Edinburgh because of a gift he said his wife had given him to ward off wild boars.
Police found the self-loading gas pistol and ammunition during a drugs raid at Andrew Jones' Dundee home. They also uncovered a cannabis farm.
The 36-year-old pleaded guilty to a total of seven breaches of the Firearms Act and the Misuse of Drugs Act.
Judge Lord Turnbull told Jones the law took firearms possession seriously.
The court had heard police acting on information from concerned members of Jones' family had raided his house on 6 November last year.
Cannabis farm
Advocate depute Pinot Di Emidio, prosecuting, said: "On entering the house, officers detected a smell of cannabis."
In a bedroom, police discovered 50 cannabis plants and a hydroponics system for tending them. A shoe box in the kitchen contained scales and cocaine-like drug Methylethcathinone (MEC).
The court had heard that after Jones was taken to Dundee's police HQ, he seemed nervous and eventually told officers: "You are going to find it anyway. I've got a gun in the kitchen cupboard."
They returned to the house on Craigievar Walk and found the pistol. Firearms experts said it was designed to fire 9mm irritant gas cartridges or blanks.
They also found seven rounds of ammunition marked either "Pepper" or "CS".
'Bizarre excuse'
Mr Di Emidio said police asked Jones about the pistol.
The advocate depute said: "He stated that this was a CS gas pistol which was a Christmas present from his wife from when they lived in Germany and that it could be used to protect oneself from wild boars when walking in the Black Forest."
Solicitor advocate Jack Brown, defending, told Lord Turnbull that Jones' reason for having the holstered pistol in a kitchen cupboard was "possibly one of the more bizarre explanations" given in court.
The lawyer, said Jones had told him not to push the special circumstances argument any further, even though efforts had been made to contact Jones' ex-wife who had gone back to Germany.
He said: "He was aware that it was illegal, the possession of these items. If it came to the attention of the authorities that he had these items it would cause him difficulty."
Jailing Jones, judge Lord Turnbull told him: "Parliament has taken such a serious view of the possession of such items a minimum of five years is appropriate."
The court was also told the cannabis plants might have yielded a crop worth between £8,000 and £24,000 and the MEC was worth up to £400 on the streets.