Two men hurt after being hit by train on Rannoch Moor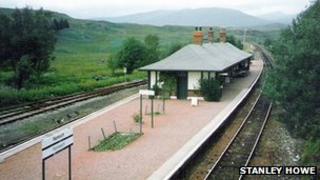 A 52-year-old man and his 87-year-old father have been injured after being hit by a train on Rannoch Moor.
The pair had been walking along the track about two miles north of Rannoch Station, near Corrour, when they were struck at 18:40 on Tuesday.
The train driver is understood to have spotted the men and braked in an attempt to avoid hitting them.
The younger man is in a critical condition in hospital. His father was released after treatment.
Both were airlifited to hospital after the incident.
ScotRail said the line had been closed to allow emergency services to deal with the situation, but has since reopened.