Loch Lomond and Trossachs hydroelectric scheme opened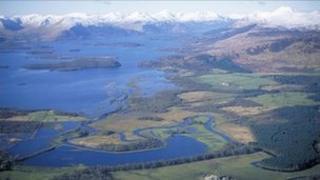 A hydro scheme capable of powering a quarter of the homes in the Loch Lomond and the Trossachs National Park has been switched on.
It is estimated the two megawatt Allt Fionn Hydroelectric Scheme on the Glenfalloch estate could supply the electricity needs of 1,700 households.
The £6.1m project, near Crianlarich, was opened by Energy and Climate Change Minister Greg Barker on Thursday.
Another three power plants are planned for the estate.
The scheme, run by Osspower, is located at Glenfalloch, near Crianlarich, on land leased from Glenfalloch Estate.
Green Power
Mr Barker said: "The development of the hydro industry is very important as we work towards our renewable energy targets.
"Schemes like Allt Fionn are helping us produce the clean, green power that we need for the future.
"I'm looking forward to hearing about the progress of the remaining projects on Glenfalloch Estate."
Three other hydro project have been given the go-ahead on the Glenfalloch Estate which will raise the electrical production to a further 4.1MW.
Convenor of the Loch Lomond and the Trossachs National Park Authority, Linda McKay said: "The Allt Fionn Scheme is a model for the sort of renewable energy project we want to see in the national park.
"We have demonstrated that by working in close and positive collaboration with land managers and renewable energy developers it is possible to reconcile the potentially conflicting priorities of protecting the natural heritage and permitting sustainable economic development in the park."