Angus golf resort backers unveil detailed plans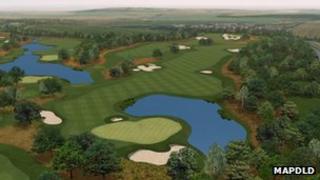 Detailed plans have been unveiled for a for a £60m pound luxury golf resort in Angus.
The Angus, which will be built at Kingennie, Broughty Ferry, will feature the region's first five-star hotel.
The initial plans for were approved by Angus Council in November 2010.
The resort will include a hotel, spa and leisure facilities, lodges and an 18-hole championship golf course designed by reigning Open Champion Darren Clarke.
The development is adjacent to the Forbes of Kingennie Country Resort, owned by local businessman Mike Forbes, who has been working with Angus and Tayside Council for two years to bring the plans to fruition.
Scottish first
The team behind the project MAP property & leisure developments (mappld) said they expect to begin construction in spring 2013 with completion in 2015.
The resort has also been chosen for the location of the first hotel in Scotland for the Wyndham Hotel Group.
Donald Paterson, Group Managing Director of MAP Property & Leisure Development Group, said: "We are thrilled to be finally developing this vision to create an outstanding resort in Angus which will bring enormous economic benefits to the area for many years to come.
"From the construction and development phase this project will provide hundreds of employment opportunities.
"With the backing of an Open champion and set in such a prime location, Wyndham Grand The Angus with its world-class golf course will be a premier destination which will attract visitors from across the globe and, in turn, boost tourism to Angus and the surrounding area."
Outstanding addition
The Wyndham Hotel Group is the world's largest hotel company with more than 7,150 hotels across the globe.
The company said The Angus would be an "outstanding addition" to their portfolio.
Mr Forbes, who has been the driving force behind the plans, said he was delighted that the project was taking another step towards reality.
He said: "These are exciting times for Dundee and Angus, which is enjoying unparalleled investment and redevelopment.
"The addition of a luxury five-star resort and championship golf course can only enhance our region's reputation and put us firmly on the tourism map."
The resort will boost a a golf club, golf academy and an 18 hole course designed by Northern Ireland's Darren Clarke.
The Open Champion said he believes the development promises an outstanding golfing experience and will become a world-leading resort.
The new facility is expected to create 200 full-time jobs after completion, with 300 posts generated during construction.
Economic reports have also estimated that the resort will increase tourism in the area by 50 per cent by 2015, and bring around £30m worth of tourism to Scotland.