Work begins on new £12.5m life sciences centre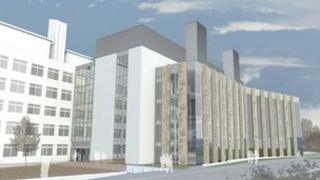 Work has begun on a £12.5m expansion to upgrade Dundee University's College of Life Sciences.
The Centre for Translational and Interdisciplinary Research (CTIR) is expected to create an additional 200 research posts at the university.
Construction work is scheduled for completion in the autumn of next year.
It is hoped the new centre will enhance the university's capacity in drug discovery, an area in which it claims to be one of the UK leaders.
Dundee University already has 1,000-plus scientists, research students and support staff from 62 countries working in the college.
Professor Michael Ferguson, dean of research in the College of Life Sciences, said the new facility would greatly enhance their work in a number of fields.
He said: "Universities are very good at innovation.
"What they haven't been quite so good at is developing the capability to translate that innovation into new medicines and applications.
"This new centre will help us provide that bridging point."
The CTIR will also allow the university to bring together specialists from a range of different disciplines, such as mathematical biology and biophysics, bioinformatics, data analysis and software development.