Scoutmaster David McDonald to pay abuse victims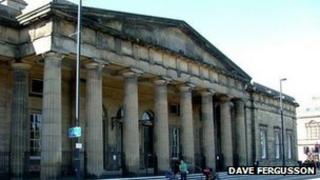 A Scoutmaster who abused three boys 40 years ago has offered to pay £16,000 to his victims in order to avoid prison.
David McDonald, 78, told a court he had liquidated his assets and given the money to his solicitor.
Sheriff Lindsay Foulis told McDonald that he could avoid prison if he was prepared to hand the money over.
The sheriff ordered him to pay £11,000 to one victim, who had been subjected to the most sustained period of abuse, and £2,500 each to the other two.
However, Sheriff Foulis deferred the final sentence in the case for two weeks to allow the cheques to formally clear into the victims' bank accounts.
Perth Sheriff Court was told that McDonald had been prepared to sell his car and cash in his shares portfolio to raise funds for compensation for the abused trio, who are all now middle-aged.
"To some extent, one can take a broad axe approach to the exercise," Sheriff Foulis told Perth Sheriff Court. "My primary concern is compensation for the victims.
"For two victims, £2,500 would represent some recognition for what occurred. But a far, far greater sum is appropriate in relation to the other victim.
"My primary concern is that the victims can receive some monetary recognition for what they have gone through. Thereafter I will deal with the imposition of a fine."
The sheriff said: "He knew very well he was abusing the trust of the boys and their parents. There was planning and this was a calculated act on his part. This was a gross breach of trust.
"If he is going to avoid a custodial sentence then society demands a very significant alternative sentence. It is his capital position that is of significant interest to me.
"And I don't wish to appear morbid but if I were to make a compensation order my concern first and foremost is for the victims. We are all mortal, but folk who are 78 are perhaps more mortal than those who are 55 or younger, if you get my drift."
Sheriff Foulis said the victims had been left with significant "emotional baggage" as a result of carrying the secret of what McDonald had done to them for more than four decades.
McDonald, a senior Scout for several decades, was still on the executive committee when police began investigating the abuse.
He also gave Second World War talks in schools as part of a Heritage group.
'Pressure points'
The frail pensioner, who used sticks to walk into the dock - admitted charges of sexually assaulting boys in his care.
The Scoutmaster told the boys he was giving them special training for their First Aid badges and offered to show them "pressure points" before sexually assaulting them.
The court was told that the lives of McDonald's victims had been blighted for the past four decades because of the abuse they had been subjected to in the late 1960s and early 1970s.
Despite admitting the offences, McDonald claimed he had "little recollection" of sexually abusing youngsters he was supposed to be looking after.
The victims, all now in their 50s, came forward after one of them broke down in front of his wife and told her what McDonald had done, leading to the police being called in.
The victims were aged between 11 and 15 and had contact with McDonald in his role as the Scoutmaster in Coupar Angus in Perthshire.
McDonald, from Coupar Angus, admitted sexually abusing a 14-year-old boy in the back of his estate car while camping during 1968.
He admitted carrying out the same serious sexual abuse on another boy in his car outside the Scout hut in Coupar Angus during the following year.
And he admitted that on various occasions in 1970 and 1971, in Tullybaccart, Newtonmore and Coupar Angus, he repeatedly sexually abused a third member of the troop.