New railway station planned for Dundee waterfront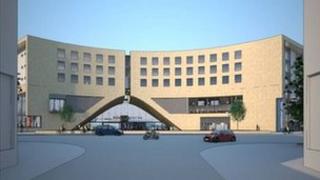 Plans for a £14m railway station, hotel and office development are to be submitted to Dundee planners later.
The proposals mark the latest phase in the £1bn transformation of the city's waterfront.
The new complex, which would replace the existing 1960s station building, would also have shops.
The Dundee waterfront project, which covers 240 hectares of land, is a joint venture between Dundee City Council and Scottish Enterprise.
A £45m outpost of London's Victoria & Albert Museum will form the centrepiece of the scheme.
Dundee Waterfront is the second-largest regeneration project in Scotland.
Malmaison recently announced plans to open a 91 bed hotel in May 2013, creating 120 new jobs next to the station.
More than 9,000 new jobs are forecast to be created as a result of the project.
Mike Galloway, Dundee City Council's director of city development, said: "We are building the 'new' Dundee, and are already on track to meet our target of attracting £1bn of new investment.
"Increased investment and growth will generate millions of additional visitors, and hundreds of millions of pounds of revenue, so it is essential that they arrive at a railway station that clearly signals that Dundee is well and truly open for business.
"We believe these plans support our wider ambitions, and would encourage businesses, investors, developers and entrepreneurs at all levels to visit the city and see the opportunities that are now available."