Coach driver says he had 'no chance' to avoid fatal A9 crash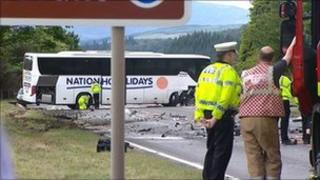 A coach driver broke down as he told a fatal accident inquiry he had no chance to avoid a crash which caused the death of a nurse.
Julia Jarvis, 52, was driving on the A9 in June 2011 when her car veered into the path of the tourist coach.
Perth Sheriff Court heard the impact caused so much damage that the whole front end of the car was destroyed.
The bus driver, George McIntyre, was injured along with nine passengers on the National Holidays coach.
Mr McIntyre wept as he told the inquiry: "The first time I realised there was going to be a collision was when the vehicle was about to hit the coach on the offside.
"It must have come across really sharply, otherwise I would have seen it. There was nothing I could do to avoid the vehicle."
Road closed
The inquiry heard that the road was busy with people making their way to the RockNess music festival.
Emergency services were at the scene for several hours and the road had to be closed in both directions between Dunkeld and Pitlochry. Ms Jarvis died at the scene.
It was revealed that Mr McIntyre was speeding, driving at 60mph when the bus was limited to 50mph on single carriageway trunk roads.
Tayside Police Constable Christopher Murray said: "The driver of the motor bus had little warning. The driver of the bus has reacted and braked. If the bus had been travelling slower it may have given the driver more time to react.
"However, in my opinion, the speed of the bus would have made little or no impact upon the outcome. It would have been the same outcome."
Written findings
PC Murray told the inquiry that Ms Jarvis had not braked at all and may have been distracted from the road by paperwork which was found on the passenger seat and the footwell of her vehicle.
Senior primary care nurse Ms Jarvis, from Crieff, was driving between hospitals prior to ending her shift when the fatal accident happened close to Dowally in the middle of the afternoon.
Fiscal depute Carol Whyte asked Sheriff Fiona Tait to make a formal finding that the cause of death was multiple injuries caused by blunt force trauma as a result of a road traffic accident.
Sheriff Tait said she would issue written findings at a later date.