Dundee group calls for same-sex marriage referendum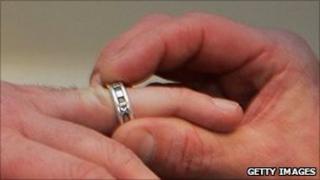 Dundee-based Christian faith group Solas has joined forces with the Free Church in calling for a referendum on same-sex marriage.
A Scottish government consultation on the issue of same-sex marriages was launched earlier this month.
Solas has delivered a submission to the government opposing any move to allow same-sex marriage.
The faith group is chaired by the former leader of the Scottish National Party Gordon Wilson.
Mr Wilson, along with Free Church minister the Reverend David Robertson, who is the group's director, said no government had the right to "redefine" marriage - and any attempt to do so would destroy the institution.
The group also argues that what it calls "this attack on marriage" is a violation of the human rights of traditional married couples under UN and European law.
A Scottish government spokesman said: "We have given an assurance that all opinions will be listened to, no final views have been reached and therefore no decisions have been taken.
"Our initial view is that same sex marriage should be introduced in Scotland but that faith groups and their celebrants should not be obliged to solemnise same sex marriages.
"We welcome all submissions to the consultation, from the diverse range of views in Scotland."
Parliamentary motion
Currently, same-sex couples can obtain legal recognition of their relationship through entering into civil partnerships but the ceremonies may not take place in religious premises and can only be registered by civil registrars.
Earlier this year the issue of gay marriage sparked a row within the SNP after nationalist MSP John Mason tabled a parliamentary motion stating that no person or organisation should be forced to be involved in or to approve of same-sex marriage.
Some of his party colleagues condemned his actions, claiming the motion encouraged discrimination.