Ranaich House care home faces closure by watchdog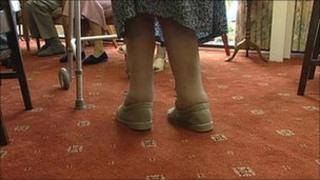 A Dunblane care home run by a company at the centre of abuse allegations is facing closure by the care regulator.
Health Secretary Nicola Sturgeon said the Care Inspectorate was "seeking the deregistration" of Ranaich House, which is owned by Castlebeck Care.
There were "continuing concerns about the quality of care" at the home, Ms Sturgeon said.
Castlebeck, which has shut three care homes since a BBC probe into the firm, said it had appealed the decision.
The BBC One Panorama programme filmed the abuse of residents in another of the company's homes.
Ranaich House, on Gibson Grove in Dunblane, has 13 bedrooms and is a "rehabilitation service" for people with "learning disability, challenging behaviour and complex needs", according to the Castlebeck Care website.
'Frequent checks'
It is understood that the Care Inspectorate is actively trying to re-house residents before deregistering the home, which will force its closure.
Ms Sturgeon revealed the measure in a written parliamentary answer to Scottish Labour's health spokeswoman, Jackie Baille.
The minister said: "I understand that the Care Inspectorate has advised Castlebeck Care (Teasdale) Limited that it will be seeking the deregistration of Ranaich House as there are continuing concerns about the quality of care provided by this particular service.
"The Care Inspectorate is undertaking frequent monitoring visits and liaising with local authorities for alternative placements for the residents."
The other three care homes to be closed by the company this year are in England.
Undercover filming
Arden Vale in Meriden, near Coventry, was shut in August, after becoming the subject of legal action by the Care Quality Commission (CQC).
Castlebeck also owns Winterbourne View, in Bristol, where abuse was filmed by an undercover BBC Panorama journalist.
The footage showed residents being pinned down, slapped and taunted.
Since the programme was broadcast in May 2011, the home for people with learning disabilities has been closed by the CQC.
And it was also announced in August that Castlebeck was to shut Rose Villa, in Bristol, for "operational reasons".
'Improvement needed'
Ms Baillie said: "It is critical that the inspectorate work closely with the councils concerned to find a solution that is in the best interests of those who are currently resident at Ranaich House."
But Castlebeck chief executive Lee Reed said the company had made a "robust appeal" against the Care Inspectorate's proposal to close the care home.
"Whilst we accept there are elements of the service that continue to need to be developed and improved, this appeal has been submitted as we believe significant improvements have been, and continue to be made, to the service," he said.
"We believe that the issues identified can be addressed by all stakeholders working together and a solution that comes through cooperation will also minimise disruption for the people in our care."