St Cyrus beach clean-up volunteers sought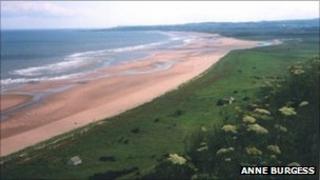 A conservation body has appealed for the public to clean up a beach on a north east nature reserve.
Scottish Natural Heritage (SNH) is asking volunteers to help keep the St Cyrus reserve litter-free and safer for wildlife.
Every year thousands of birds, seals, dolphins and marine mammals die by swallowing or becoming entangled in rubbish, the organisation said.
A special clean-up day is being held on 18 September.
It will run from 11:00 to 14:30 and is part of the annual Marine Conservation Society Beachwatch, which is now in its 18th year.
The St Cyrus reserve is six miles north of Montrose in Angus.
Reserve manager Therese Alampo said: "Hundreds of birds and marine mammals accidentally eat or become tangled up in litter every year.
"It's such a needless waste of life, but we can all play our part by not littering and cleaning up dangerous litter on our beaches."
Volunteers who want to take part in the St Cyrus clean-up are asked to meet at the nearby Old Lifeboat Visitor Centre.