Brian Cox opens 'cutting edge' Dundee effects lab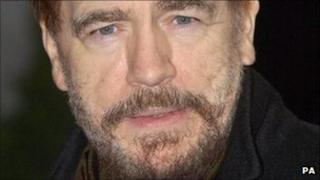 Hollywood star Brian Cox has opened a "groundbreaking" visual effects laboratory at Dundee University.
The university said the €6m (£5.3m) lab would bring together the worlds of film, art, technology and computer science.
It has been created at the Duncan of Jordanstone College to produce "cutting edge" visual effects and act as a research facility.
Cox, who starred in X-Men and Bourne Identity, is rector of the university.
The lab is part of the North Sea Screen Partners project and will offer film companies the chance to work with the latest technology.
Project Leader Peter Richardson said he aimed to create new "synergies" between scientists, artists and filmmakers.
He added: "As he is one of Dundee's greatest cultural ambassadors, we are delighted that Brian Cox will be joining us to officially open the Visual Effects Research Lab.
"He is also university rector and a long-standing supporter of the research carried out at Dundee and so he is the perfect guest to open the facility."