NHS bosses shut down Dundee GP practice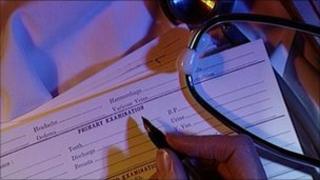 Health chiefs are closing a Dundee surgery after its doctor was repeatedly investigated by the medical watchdog.
NHS Tayside said it was terminating its contract with Ardler Surgery on 8 August over concerns about the level of service patients were receiving.
Dr Dennis Miller has faced a series of General Medical Council hearings over the past six years, and was warned over a methadone prescription in 2008.
His 1,700 patients will be transferred to a temporary surgery.
The GMC first imposed conditions on Dr Miller's practice as a GP in 2005, when he was ordered to be mentored over his prescribing and record-keeping skills.
In 2009, he was formally warned by the watchdog for failing to record a methadone prescription correctly. He was told his behaviour did "not meet with the standards required of a doctor" and risked bringing the profession into "disrepute".
The doctor's latest set of conditions, active from 25 July, include a restriction that prevents him from prescribing certain drugs.
He is also only allowed to practice at Ardler Surgery, on Turnberry Avenue in Dundee.
NHS Tayside said its main priority was to ensure patients registered at the Surgery had continued access to a doctor.
The health board has written to patients explaining the decision and detailing the interim arrangements.
Dr Michelle Watts, from NHS Tayside, said it was a "very unfortunate but unavoidable situation".
Temporary surgery
"Patients should be assured that we are doing everything we can to minimise any disruption to patients and their care," she said.
"If you are a patient of the surgery you will now have to register with another GP practice and this should be a very straightforward procedure."
The temporary surgery at Wallacetown Health Centre will be open for eight weeks, Dr Watts said.
She added: "Experienced family doctors and a practice nurse have been employed to help and support patients at Wallacetown prior to them registering with a new practice."
The health board said housebound patients, or those with "complex needs" had already been allocated a GP.
A GMC spokesman said: "Dr Miller has conditions on his registration while concerns are investigated."