New Montrose lifeboat after £1.5m donation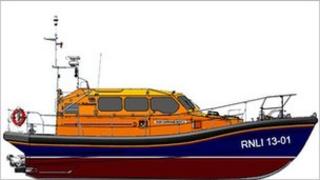 RNLI volunteers in Angus will be the first crew to operate a new "cutting edge" lifeboat after the organisation was left £1.5m in a will.
The legacy came from the estate of Ruth Grant Smith, who left the money to the RNLI after she died in December 2005, aged 99.
The new boat at Montrose will be named after her late husband Ian.
Ray Wilkie, RNLI operations manager at the station, said the crew were "extremely grateful" for the bequest.
He said: "The fact that the new Shannon-class lifeboat, to be stationed at Montrose, will be funded by a gift in a will is remarkable - and it has come as quite a surprise to us at Montrose lifeboat station."
'Highly manoeuvrable'
The Shannon-class lifeboat has been designed by RNLI naval architects and is the first to have twin water jets instead of conventional propellers.
The RNLI said the jets enabled to lifeboat to operate in shallow waters and be "highly manoeuvrable". Water jets also reduce the risk of damage to the lifeboat damage during launch and recovery, or when it is intentionally beached.
They also give the boat a top speed of 25 knots, eight knots faster than the current boat at Montrose.
The town has had a lifeboat station since 1800, making it one of the oldest in the UK. It was chosen to be the home of the new craft - which costs about £1.5m - following an RNLI coast review.
Full sea trials of the new lifeboat will be held later this year and the first operational craft will be ready in 2013. The RNLI said the exact date for the arrival of the Shannon at Montrose had not been determined.
A former colleague of Mr Grant Smith at Brodies solicitors, Ronald Gardiner, said the couple had no children and were keen on supporting charities, including regular fund-raising events for the RNLI.
They moved to Grantown-on-Spey after Mr Grant Smith retired, he said.
Linda Aitken, the RNLI's Legacy Manager for Scotland, said: "The size of the legacy gift the RNLI is using to fund the Montrose lifeboat is unusual - more often we receive smaller gifts in wills.
"We're very grateful for all the gifts we are left, whether it pays for a crew member's lifejacket, or as in this case, a lifeboat. Every legacy gift ensures the charity's volunteers continue to save lives as safely as possible."