Big Noise orchestra's 'boost' for Raploch estate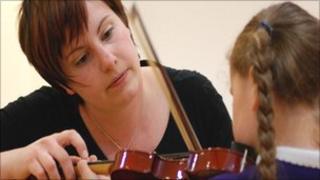 An orchestra set up on a Stirling estate once blighted by drugs and crime is boosting children's confidence and self-esteem, a report has said.
The independent report said the Big Noise orchestra in Raploch was having a "positive impact" on the development of the children involved.
The orchestra was set up in 2008 - inspired by the Venezuelan El Sistema scheme to help poorer children.
Sistema Scotland said it had succeeded in "saturating" the estate in music.
The report, commissioned by the Scottish government, said the orchestra was providing a "unique opportunity" for children across all schools in Raploch to work together to achieve a common goal.
Community living
The charity's chairman, Richard Holloway, said: "We don't believe in quick fixes. We can't transform the lives of a new generation in just a couple of years. But this report tells us we are on course.
"This is working and we want to start doing it in more places. We want to hear from communities and local authorities that think an orchestra can help improve the future of their children."
Mr Holloway said Sistema Scotland recognised budgets were "hard-pressed", but said the report noted the orchestra would "provide significant savings to the public purse" in the long term.
The project aims to teach children to live in a community and co-operate with each other.
One parent told researchers that the orchestra had also overcome the perception that "kids in Raploch don't do these sorts of things", likening it to the film Billy Elliot.
'Astonish' the world
Another said: "Big Noise has had a major impact on my daughter's confidence.
"She never used to play with others or approach people when she was younger, but she is now much more confident with her peers and is mixing well with children from other schools."
There are now more than 300 children at Raploch Primary School - from nursery age to P7 - who have been taught to play string instruments in the Big Noise orchestra.
The children have performed at the G20 summit in St Andrews and at the Queen's Hall in Edinburgh, as well as Stirling Castle.
Mr Holloway said the children were going to "astonish the world".