Man admits dealing cocaine 'for village highland games'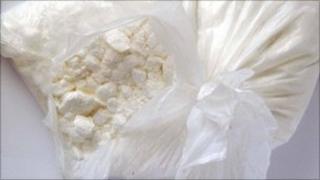 A man planned a 900-mile round trip to deliver cocaine to a village in time for its annual Highland Games, Perth Sheriff court has heard.
Craig Maguire, 30, took the drugs, with a street value of £1,100, from Luton to Blackford to supply over the weekend.
He admitted dealing the drug at house in Blackford on 29 May 2010 after police found the cocaine in his car.
The court heard Maguire was meeting friends for the Blackford Highland Games. Maguire was remanded in custody.
Fiscal depute Alan Kempton said: "Police were acting on information received and attended at the house in Blackford with a drugs search warrant.
"The accused was one of several people found at the house and it was ascertained that the accused and his brother had travelled from Luton to Blackford, arriving on 28 May.
"The car they travelled in was parked outside the house.
"The car was searched and two bags of cocaine were recovered."
Mr Kempton added: "He admitted the cocaine belonged to him and said his intention was to supply it to a number of persons over the course of the weekend."
Solicitor David Holmes, defending, said Maguire was staying with a group of friends he had known for a number of years when the police searched the house.
"As well as the Highland Games, there was also to be a fishing trip," Mr Holmes said.
"He was to bring this drug for the weekend and it was to be handed out to various parties over the course of the weekend."
Sheriff Michael Fletcher rejected Maguire's plea for bail and remanded him in custody while background reports were prepared.