Coldstream museum exhibition explores history of farming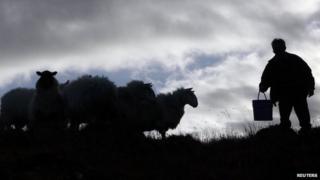 Coldstream Museum has reopened for 2014 with a new exhibition examining 300 years of farming in Berwickshire.
The Agricultural Life in Berwickshire looks at how farming life has changed from the 18th century to today.
The exhibition looks back at the changes made in farming and also how the industry itself has shaped the area.
As well as exploring the past, there is a look ahead to how farms in the district are preparing for the future.
Berwickshire has a rich history of agriculture and local farmers were quick to adopt new developments.
The iron swing plough, designed to be pulled by one man with a pair of horses, was invented by James Small of Blackadder Mount, near Allanton.
The exhibition goes on to examine modern day innovation with a look at Graham and Nancy Bell's "permaculture" forest garden in Coldstream which, with just quarter of an acre of land, yields over 600kg of edible produce a year as well as firewood and plants to sell.
The museum is open until 1 June and entrance is free.