Royal Bank of Scotland to shut three Borders branches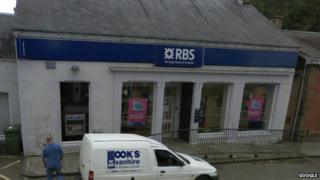 The Royal Bank of Scotland plans to shut three branches in the Scottish Borders due to the low number of people using them.
The sites at Chirnside, Greenlaw and Newtown St Boswells will close in June.
It said each branch had 26 regular users or less and a new mobile van was being commissioned to serve the area.
Borders MSP John Lamont said he was "deeply disappointed" by the move which would "adversely affect" RBS customers in the region.
An RBS spokesperson said: "More and more of our customers are using alternative ways to bank with us, such as online and telephone banking, or using their mobile phone.
"As a result, we've seen the number of people using the branch fall significantly over the last few years and we've made the difficult decision to close the Chirnside and Greenlaw branches on 18 June and the Newtown St Boswells branch on 25 June.
"We've advised staff and we're writing to our customers to make them aware of the different ways they can bank with us.
"If customers are concerned about how this will impact their banking, they can go into the branch where staff will be happy to discuss the alternative options available."
Mr Lamont said he hoped to arrange a meeting with the bank's senior management to discuss the move.
"They need to understand just how damaging these closures could be to these communities and I look forward to making the case for keeping these branches open," he said.