Borders to Edinburgh railway: Falahill bridge works pledge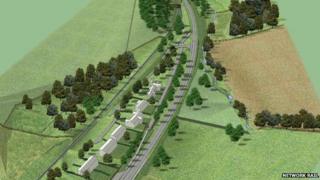 Network Rail says traffic should be able to "flow freely" during the building of a final bridge over the A7 as part of the Borders Railway works.
Work at Falahill in the Borders will get under way next week.
Residents have voiced concerns about the project but Network Rail said it believed it had now come up with the "best solution".
However, it added that it was a major project which was likely to take a "number of months" to complete.
Revised designs for the scheme were approved by Scottish Borders Council in November.
They were aimed at giving more room between the road and cottages in the area.
They will also see a new bridge built to the south of the properties, carrying the road over the railway.
The bridge is the third and final A7 crossing to start work as part of the multi-million pound project to see trains run between Edinburgh and Tweedbank by 2015.
Network Rail's project director Hugh Wark said it was pleased to get construction work under way at Falahill.
"There's been a huge amount of work behind the scenes to get the design right and we believe that we now have the best solution for the location," he said.
"Our delivery strategy for the A7 bridge over the railway in this location mirrors our approach to delivering the City Bypass bridge, only on a smaller scale.
"The temporary two-lane stretch of road will mean that road traffic can flow freely while we deliver this crucial element of the project."
The work is being carried out by SBC Contracts, on behalf of main contractors BAM.