Ministry of Defence makes Jason Smith Iraq heat death apology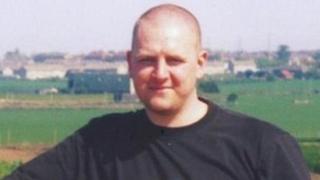 The mother of a Territorial Army soldier who died of heatstroke in Iraq more than 10 years ago has received an apology from the Ministry of Defence.
Pte Jason Smith, 32, of Hawick in the Scottish Borders, died in August 2003.
An inquest last year ruled there was a "missed opportunity" for army chiefs to step in before he collapsed in temperatures exceeding 50C (122F).
The MoD apologised "unreservedly" and acknowledged the finding that the risk of his death could have been reduced.
Pte Smith had repeatedly told medical staff he was feeling unwell before collapsing and suffering cardiac arrest on 13 August 2003.
Assistant coroner for Oxfordshire Alison Thompson concluded: "When climatic conditions deteriorated in August and the number of heat casualties increased, there was a missed opportunity to intervene."
Those in charge of the soldiers could have "become more rigorous in monitoring individuals" when temperatures soared, making sure they were treated for their symptoms and had enough rest.
An original inquest was held in 2006 but a second was ordered by the Supreme Court after Pte Smith's mother, Catherine, successfully applied for a new public hearing, complying with the European Convention on Human Rights.
Mrs Smith has now reached a settlement with the MoD and also received an apology over her son's death.
She said: "It has been a long fight for information and I am glad that the Ministry of Defence has finally acknowledged that there was a missed opportunity to intervene, and the risks that contributed to Jason's death could have been reduced.
"I have continued to fight because no other families should have to go through what I have been through.
"I have been reassured that changes have been made as a result of Jason's death."
The MoD said it had made changes since Pte Smith's death to reduce the risk of heat-related injury.
The apology by David Evans QC, on behalf of the MoD, said: "We apologise unreservedly for the death of your son, Private Jason Smith, whilst he was on active service in Iraq on 13 August 2003.
"The Ministry of Defence acknowledges the coroner's findings that the risk of Jason's death could have been reduced by adherence to the policy in place at the time, including in relation to climatic monitoring, better advice on hydration, medical treatment, casualty reporting and the availability of air conditioning.
"There was a missed opportunity to monitor and intervene, and become more rigorous in the monitoring of Jason."
Settlement reached
He apologised for the loss of Pte Smith's medical records and the distress caused as a result.
"We acknowledge more effort should have been made to locate them and it was unacceptable that some records were only produced on the last day of evidence at the second inquest," he said.
"We acknowledge Private Smith's commitment and dedicated service to the Territorial Army for over 10 years and on active service in Iraq on behalf of his country in 2003."
Mrs Smith has been represented by the Hodge Jones and Allen legal firm.
Solicitor Clair Hilder said: "I am glad that we have been able to reach a settlement with the Ministry of Defence and that Mrs Smith's case has finally come to a conclusion.
"Particularly important to Mrs Smith was the apology which has been secured.
"It is just disappointing that it has taken so long to obtain and that the Ministry of Defence has fought her every step of the way."