Sochi 2014: Lockerbie curling hero David Murdoch takes silver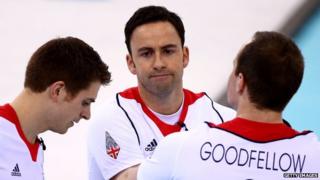 Lockerbie residents turned out at the town's ice rink to see local curler David Murdoch's take silver at the Winter Olympics.
The 35-year-old was the skip of the Team GB curling side which won its way through to the final in Sochi.
The sport enjoys a loyal support in southern Scotland and has produced many national and international champions.
Murdoch's rink defeated world champions Sweden in the semi-final but lost to Canada in the final.
He teamed up once again with Greg Drummond from Forfar, Stirling's Michael Goodfellow and Scott Andrews from Prestwick in pursuit of the title.
Lockerbie Ice Rink was the gathering point for local fans who wanted to see how they got on.
'So proud'
The town had already enjoyed medal success at the Olympics with Anna Sloan and Claire Hamilton picking up bronze medals as part of Eve Muirhead's rink on Thursday.
"The three of us coming from a small town like that and to be on the Olympic stage and winning medals, it's special," Murdoch said before the match.
"It's special for the town and it's special for the rink because that is where we all grew up and came out of the school and played after school.
"I'm just so proud of the girls, it's such a great achievement."