Hardengreen bridge's first part installed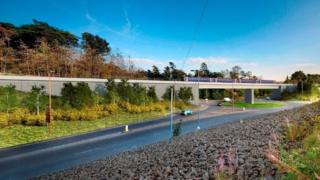 The Borders Railway project reached a milestone over the weekend as the first part of the longest bridge built for the development was installed.
The bridge, which will span 71.5m once completed, required a 1,200 tonne crane to hoist its four 107 tonne beams into place.
The final phase of installing the structure will take place in a fortnight.
Roads were closed and diversions put in place while the work took place.
The weekend's road closures closure followed seven months of preparatory work, when the bridge piers were constructed on site.
A 30-strong team worked over the weekend to lift the beams into place.
Transport Minister Keith Brown watched the bridge's installation.
He said: "The building of the bridge at Hardengreen is a real symbol of the resurrection of this railway line and all it means for the people of the Borders and Midlothian - new job and investment opportunities, social benefits and increased tourism.
"Around 400 jobs are being created on this project, which is employing up to 1,000 people at any one time.
"Work is now under way all along the 30-mile route of the Borders Railway and we are really gathering momentum towards the opening next year."
Work to complete the structure will continue in two weeks with further road closures scheduled to take place between 28 February and 3 March.
To help minimise disruption during the work, a number of local diversions will be put in place.