CCTV image released of missing Annan man Ian Carruthers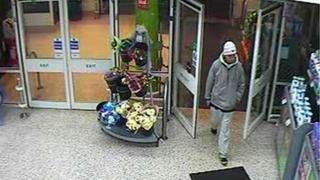 Police have released a CCTV image of an Annan man last seen three weeks ago in the hope it might help to trace him.
A major search operation involving a police helicopter, coastguard, the fire service and rescue teams has failed to find 30-year-old Ian Carruthers.
He was last seen at about 01:30 on Friday, 17 January, in the Longmeadow Avenue area of the town.
The CCTV image shows him in the Co-op in Annan at about 20:00 on the Thursday before he went missing.
Police believe it captures him in the clothes he was wearing when he was last seen.
Ch Insp Steven Lowther said: "We hope the new image might stir someone's memory of the night Ian went missing.
"The response from the local community has been magnificent and I would like to personally thank them for their support to our investigation.
"However, we are still keen to speak to anyone who may have any information on Ian's whereabouts or even if they saw him during the night he went missing."
'Inaccurate rumours'
He said they were "building up" a picture of the lead up to his disappearance but any extra information would be vital.
"We are also aware of some inaccurate rumours that are circulating in the town regarding the possible circumstances of Ian's disappearance," he added.
"I would like to stress that unfounded gossip hinders any police investigation and causes further distress to the family involved.
"I would like to remind everyone that this remains a live missing person enquiry and we are committed in continuing our investigation into Ian's disappearance.
"If anyone has any information please contact Annan police on 101."