Maxwelltown High School probationer teacher struck off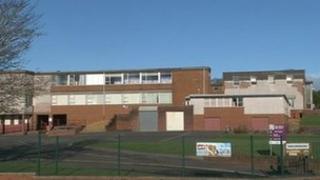 A probationer teacher has been struck off after a panel found she had filled in a report which described her own progress as "satisfactory".
Denise Holt was providing absence cover at Maxwelltown High School in Dumfries in November and December 2012.
She told the General Teaching Council Scotland it was a draft report and she had been suffering stress at the time.
A panel found she had undertaken a "scheme of dishonesty" and ordered she be removed from the teaching register.
Ms Holt worked at the Dumfries school between 12 November and 21 December 2012.
She completed the interim report - which she claimed was in draft form - and later submitted it, unsigned, to GTC Scotland.
She initially denied having ticked the "satisfactory" box on the document but later admitted doing so, claiming she thought the terms of a letter from the head teacher entitled her to do so.
'Family issues'
The panel did not accept that was the case as it noted all the letter did was confirm her attendance at the school and thank her for her contribution.
It also concluded that she had had the opportunity to explain that the report was a draft which she had completed herself but had failed to so do.
Instead, she had claimed a teacher at the school had ticked the "satisfactory" box when he had not in fact done so.
Ms Holt also told the panel she had been suffering from stress and anxiety at the time of completing the report due to "personal and family issues".
However, having seen evidence of her "positive and upbeat approach" while working at Alva Academy a few months later, the GTC did not accept her actions had been "entirely due to her state of health".
It concluded her conduct had fallen "significantly short of the standards expected of a registered teacher".
The panel also found she had "breached the core values of integrity as well as trust and respect with regard to honesty".
It ordered Ms Holt should be struck off and cannot apply to re-register for a minimum of 18 months - reduced from a possible two years after taking into account her stress and anxiety.
She has the right to appeal within 28 days.