Pennine Way runner rescued in 'brutal' race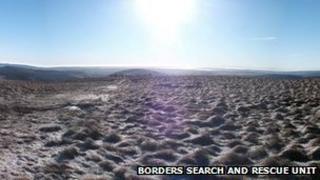 A competitor in "Britain's most brutal race" has been rescued after getting into problems at a remote point on the Scotland-England border.
The Borders Search and Rescue Unit and a helicopter from RAF Boulmer were sent out to assist a participant in the 268-mile Spine Race along the Pennine Way.
He set off the SOS function on his GPS tracker early on Saturday morning.
The runner was located at Windy Gyle and was taken to safety by the BSARU team deployed to the hill.
Damon Rodwell, of the rescue team, said: "Bearing in mind that the runner had covered more than 250 miles over rough country in the past week, his position at 619m above sea-level in an exposed spot and the damp, chilly weather, it was clear that speed would be an important factor in rescuing the casualty before he succumbed to hypothermia.
"A helicopter was dispatched from RAF Boulmer in Northumberland, but was prevented from landing on the high summit by low cloud and poor visibility.
"BSARU were deployed to find and evacuate the exhausted 49-year-old on foot."
They found the "experienced ultra-runner" had done "everything he could have to stave off the chill".
"He was on a foam mattress inside a waterproof bivvy bag, a sleeping bag and all his clothing," said Mr Rodwell.
"Nonetheless, he was pretty cold, completely exhausted and a little disorientated."
Rescue teams were called out to the same race last year after several runners got stranded in blizzard conditions.