Scottish Borders break-in crackdown shows 'positive results'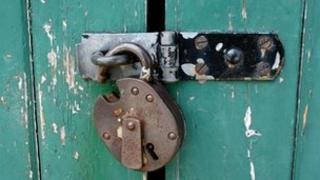 Police in the Borders say an operation to tackle a rise in break-ins across the region has shown "positive results" in its first week.
Operation RAC was launched on Monday to help address a 4% increase in housebreaking offences since last year.
Police said two people had already been charged, as well as property worth £12,000 being recovered.
They said the operation would continue and anyone involved in a break-in would be "dealt with by police".
Det Insp Robert Brown said: "The majority of the increase in housebreaking are offences relating to sheds, garages and outbuildings, with only a small rise observed in break-ins to homes.
"Nevertheless, these crimes have a serious impact on our communities and we have dedicated resources in place to address housebreaking, which many areas have identified to us as a local priority."
Suspicious activity
He added: "We are already witnessing positive results across the Lothians and Scottish Borders Division, with several people now either in custody or awaiting trial for housebreaking offences."
Ch Insp Andy Clark, area commander for the Scottish Borders, said the public could also help tackle the issue.
"Taking a few simple steps such as securing all doors and windows when leaving your property and ensuring all valuables are stored safely out of sight will help prevent crime occurring," he said.
"Furthermore our communities are asked to remain vigilant for suspicious activity in their area, particularly around the homes of elderly or vulnerable members of the public, and report any concerns they have to police."