Traditional printer looks to museum plan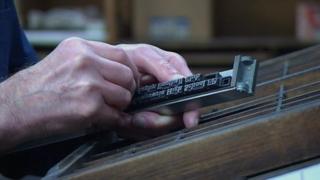 Traditional printing is painstaking, time-consuming and has all but disappeared. The Blairgowrie Printers is one of the very few print-shops of this kind left in the UK.
There has been a print shop at Reform Street in Blairgowrie since 1879. Although it stopped printing commercially in 2005, the printer's shop is complete with all the original cases and fittings.
Hamilton Scott began working at the printers in 1945, at the age of 16, as an apprentice compositor.
He now owns it.
Alongside him is Ken Dow. He was the youngest apprentice when he started and so was known as the "printer's devil".
The technology might have changed but the language we use today is littered with phrases from the world of printing.
John Easson, a former lecturer in printing technology, explains how the cases where the letters were kept described how they were used.
He says: "The cases that the printers used were the upper case and lower case, which had the upper case and lower case letters in them.
"The individual letters in those cases were known as 'sorts'. So if you ran out of letters, you were 'out of sorts'.
"You then found that the bed of the press was where you put your newspaper to bed, because it had a flat bed and looked like a double bed. All these other terms gradually became absorbed into ordinary language."
This method of printing has been largely consigned to the history books.
But it could be getting a new lease of life.
The Blairgowrie-based Ericht Trust has an ambitious plan for the disused Hill Primary School in the area, which includes plans for a working museum.
Alfie Ianetta, the development director, says the print-shop has "some unique machinery going back 150 years".
The machinery is still working but currently not being used.
"What the Hill Primary School project will represent is an opportunity for us to take these machines, put them into a new purpose-built museum and let all the generations of today see what the generations did in the past," he says.
This way of printing might be long gone but perhaps the machinery will one day find a new way to live on if the idea of a printing museum secures enough support and gets the go-ahead.